Tiny Titans screen using
Google Finance Stock Screener
Google Finance no longer offers a stock screener. This implementation is still possible with several of the best free stock screeners.
All the data is available to create a Tiny Titans screen in the Google Finance Stock Screener. Keep in mind that Google offers this online as a free stock screener.  It works fine but takes some extra effort to get the results.
Once you get to the screener, you get a default grid. After deleting the excess criteria, expand the Add Criteria selection to get the desired criteria.  The following was created to meet the Tiny Titans requirements.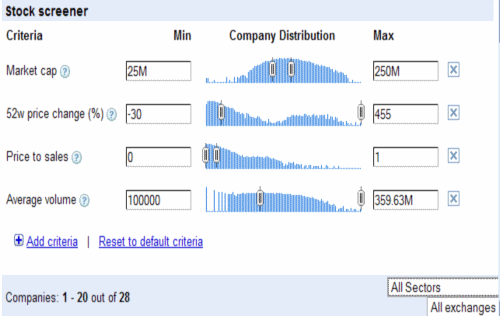 The graphical representation of the criteria distribution is a nice touch.
Implementing the Tiny Titans screen
The Tiny Titans strategy looks for market cap (inflation adjusted to 2004) between US $25 million and US $250 million. Since the Google screener allows for ranges, only one line is necessary in the screen. Note that you can enter "M" for million or type 25,000,000.
Next, select the 52w price change (%) criteria and adjust the min value until at least 25 stocks appear in the results. Don't do this until the other criteria are in place – use the default initially.
Price to sales should be less than one by definition so use a min value of 0 and a max value of 1. One variation might be to choose a ratio higher than 0 as the min value.
Finally, select the Average volume criteria.  Enter 100,000 as the min value.
It was not clear how to filter out the OTC stocks, so I simply selected All exchanges from the dropdown list. Note that the exchange selection is not in the screen grid. If you use the Google Finance stock screener, you will need to eliminate OTC stocks manually after you run the screen.
Other considerations
There is no industry relative P/S available and there is no back-testing capability. The real frustration is that a screen cannot be saved by name for later use. But since the screen is not complex, this may not be a show stopper.
But, the Google stock screener is a free option for the Tiny Titans strategy. And the extensive company financial information available within the site might make the difference for you if you intend to finish up with qualitative analysis.
In addition to free stock screeners, fee-based screeners are capable of implementing this strategy.