Stock Screener
Stock Rover Premium
Premium, the fee-based stock screener from Stock Rover, includes all the features of Basic and adds significant features to make it a top tier screning tool.
If you aren't familiar with Basic, it may be worth checking out what is included with regard to features and visualization.
"Must Have" features
Once you are convinced your data requirements are met (Premium includes almost 100 additional data points), it is worth considering everything the product offers.
The big "Must Have" step up from Basic is the ability to export the results of a screen in csv format. Not just the ticker list, but the fundamental and market data included in the view panel.
There is text based and video based help for the features unique to Premium.
Although there is no User Forum, Stock Rover Premium offers email based product support. When I submitted a question, they responded in a timely fashion. That is a big win.
Stock Rover "Nice to Have" features
The major difference between Stock Rover Premium and Basic is in this feature set.
The screen shot below is a view of the screener update function for a modified version of the Dividend Growers screen.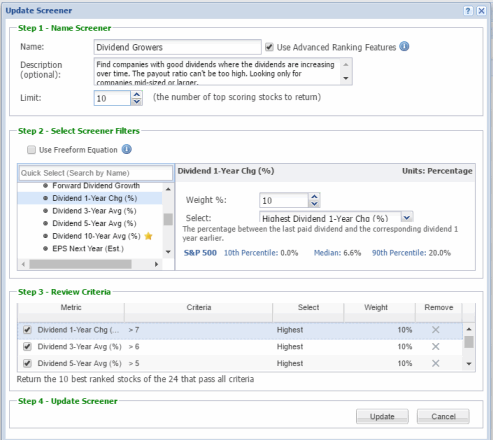 Notice that the "Use Advanced Ranking Feature" checkbox is selected. It is how the Premium features of the screener are made available. The checkbox is displayed on Basic screen updates, but cannot be selected.

Since it is now possible to rank the stocks passing the screen, it is also possible to restrict the number of passing companies to only the top ranked. With the value set to 10, only the 10 highest ranking stocks will pass the screen. NOTE: If you are not familiar with stock ranking, it may be worth checking out stock ranking before continuing.

The screen criteria "Dividend 1-Year Chg (%)" is highlighted and shows some of the choices.
Instead of an just an absolute % change > 7 as in the Basic screen, the highest 10% of all stocks with a 1 year % change will be selected.
Every one of the highest 10% of stocks meeting this criteria is ranked. The ranking due to meeting this criteria is weighted at 10%. Each item with a weighting is part of a composite ranking.
The 10 stocks with the highest composite rating pass the screen and are displayed.
You can see that this is a significant savings in time over having to manually sort through a large list of passing companies to select the best 10.
Even more critical, this is a consistent, repeatable process. You have done your analysis before screening and have removed emotion from the ongoing process.
One of the available features not shown here is the use of "OR" logic. Using "OR" logic is an opportunity to meet one of several criteria rather than insisting on meeting all of them.
The advanced logic and the ability to create free form equations is accessed by checking "Use Freeform Equation". There is documentation on Stock Rover for this feature.

Finally, notice in the screen shot that the "Dividend 10-Year Avg (%)" criteria has a gold star next to it, indicating it is only available in Premium.
Stock Screener "Advanced" features
There is simply no difference between Basic and Premium here, except the possibility of getting more of something.
Out of curiosity, I ran a chart comparison chart for the 10 stock Premium Dividend Grower screen versus the S&P 500. See below.

Again, this is not back-testing.
As in the Basic stock screener, direct connection to online brokers is implemented and available at no cost.

Conclusions
For a fee-based stock screener, this is an excellent value. Keep in mind the non-available features. If you need them, this is not an excellent value.

If it sounds interesting, Stock Rover offers a 14 day free trial of Premium. One option would be to familiarize yourself with Basic, the free version, and then use the 14 day free trial to familiarize yourself with the additional features of Premium. In either case, register to give it a try.

Please remember to watch the getting started video to begin. And keep in mind that the right mouse button is used extensively to provide quick access to a lot of the tools and features.