FinViz Stock Screener
The FinViz stock screener from Financial Visualizations is a well done tool that surpasses in functionality what is offered by many major sites like Yahoo. With the demise of the MSN Deluxe screener, this is an alternative worth consideration.
"Must Have" features
As always, the data requirements of your investing strategies are the primary consideration. FinViz offers 60 distinct data points covering both fundamental and technical criteria.
One possible shortcoming is that the values of the data points must be selected from a drop down list associated with the data point. It is not possible to enter a custom value. For example, if you want to consider a P/S ratio less than 1.5, you will need to select the "Under 2" option and delete some of the results.
The good news is that as a registered user, you can name and save your screening criteria for re-use and export results to a spreadsheet.
Registration is free.
The excellent financial support the site offers enables you to determine the freshness of the data.
Stock screener "Nice to Have" features
The drop-down approach to selecting criteria precludes the use of industry relative selections and offers no historical categories (e.g., year over year sales). This is only an issue if your strategy demands this type of data.
One of the screener's strengths is the presentation of the data. Not only can you look at all the data points independently of the screening criteria, you can get charts with technical indicators and basic financial data right in the results list. The screen shot below illustrates this better than words.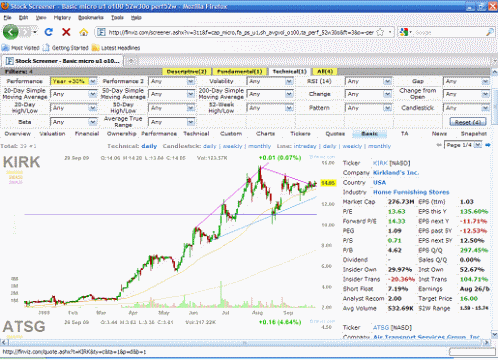 You can sort the results by any criteria. You also have the option of saving the screen results in a portfolio to track performance.
FinViz stock screener "Advanced" features
No back-testing is offered and FinViz offers no proprietary indicators within the screener. Custom formulas are not offered. The screener runs against the database of over 6600 equities rather than against a portfolio or custom basket of equities.
Implementing investing strategies
REMINDER: Your personal investing strategies identify the data and logic needs of the best stock screener for you.
The Tiny Titans investment strategy discussed elsewhere on this site is used to illustrate how the FinViz stock screener implements an investment strategy
Conclusions
If you intend to use a stock screener this is worth a look – especially since offered at no cost. From a visualization of results point of view, this is as good as it gets regardless of cost. Take a look and register for free to give it a try.