Stock Screening Tools and
Sustainable, Rule Based Investing 
After a satisfying career working on a variety of process automation and business management projects, my attention turned to a long time area of interest - investing.
Unfortunately, the problem solving approach to consistent, repeatable processes that led to successful automation and business management was missing from my investing.
Not good.
And problem solving is not a complex approach:
WHAT needs to be done
HOW to do it
DO it
REVIEW it
The core of my 40+ years of experience involved, in every case, analysis - the "WHAT needs to be done".
You can imagine that succeeding in any of the following areas is minimal if you don't begin with WHAT needs to be done:
Manufacturing automation and control systems (over 30 systems)
Software Lifecycle Management
Turnaround management (2 companies)
Acquisition integration
Teaching (math and problem solving)
Add rapid prototyping and agile methods and you have a process for building sustainable, rule based systems.
NOTE: The need for solid analysis is not news. In its January 1984 Communications, the Association for Computing Machinery determined that 48% of system failures were due to faulty requirements and specifications, i.e. WHAT. The concerted effort to address this short-coming resulted in a problem solving style approach - Design, Develop, Build.

What about investing and trading

One of the better things in my investing education was joining the local American Association of Individual Investors (AAII) chapter.
Fortunately for me, Pittsburgh has an active AAII chapter and in 1998 I became a regular at chapter meetings, seminars and special interest groups.
Then I started volunteering and got to spend more time with experienced, knowledgeable investors and traders.
Problem solving works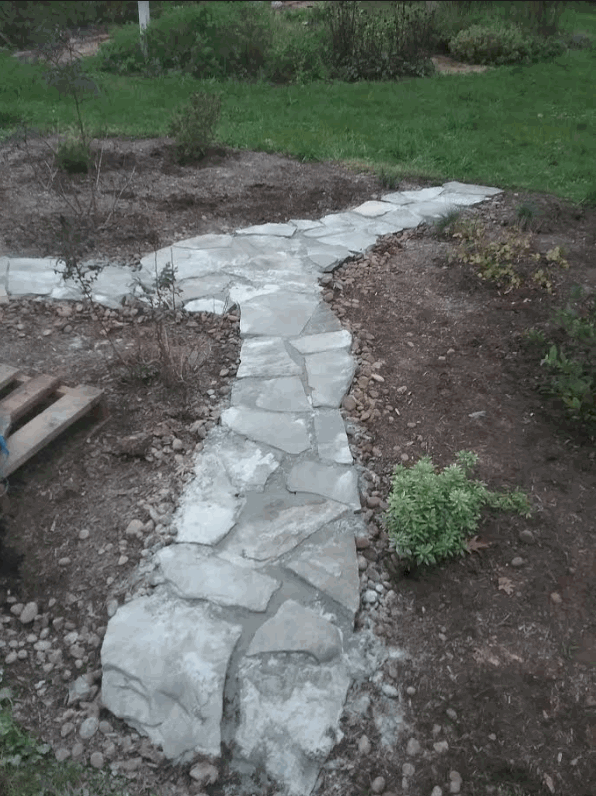 Deer Resistant Demo Garden
Even hobbies are opportunities for problem solving. My wife and I are both certified Master Gardeners and this summer were directed to create a "deer resistant garden" to illustrate deer resistant landscaping (WHAT). Next, we identified deer resistant shrubs and plants available locally and planned an attractive arrangement (HOW).
This fall, together with some other Master Gardeners, we started the garden (DO).   And no, the deer didn't already destroy it.  This is the before picture.

In the spring, we will see what survives the deer and the weather and make the necessary adjustments (REVIEW).
Why did I ignore my experience

In 2008, I began to review what I had learned about investing. While re-reading and picking out the best material I had collected over the years, I came across some behavioral investing material.
Oops. It was all about me.
At that point I reverted to problem solving and evaluated styles, strategies and techniques appropriate to my investing behavior and available time.
And that continues to this day. Define WHAT the strategy demands, HOW I am going to do it, select the appropriate tools and DO and REVIEW to create consistent, repeatable investing processes.
To track the effort and enforce consistency, I decided to share what I found on the web - the result is StockScreening101.
In addition to the problem solving for investing process, the site identifies market analysis concepts, investing strategies, and stock screening tools (not just what works for me) to help you build investing processes and best practices for you. Best practices in turn lead to sustainable, rule based investing that allow improvement in stock investment performance.
And
No surprises:

problem solving works
rule-based investing works
Are you going to begin with wildly successful investing/trading?
Probably not.
But if you have a process and begin with a sustainable, rule based plan you have a framework for improvement, and can go forward with a solid approach.
No identifiable, measurable investing process - no improvement.
Notice that sustainable and rule based are not a synonyms for profitable. They are the basis for evaluation and improvement.
My hope is the information on this site will have as much value for you as it does for me.
Jim Emberg
Education and Certifications
Graduate study, Library & Information Science, University of Pittsburgh
MS Mathematics, Indiana University of Pennsylvania
BSEd Mathematics, Indiana University of Pennsylvania
Master Gardener Certification (PennState Extension - 2014)
Master's Certificate, Business Analysis (Katz School of Business - 2010)
OCEBTM Fundamental Certification (Visumpoint - 2009)
Business Process Modeling (Qualiware - 2006)
UML Universal Modeling Language (2001)