Stock Screener
Zacks Research Wizard
Research Wizard is a full-featured stock screener from Zacks Investment Research. Zachs is in the business of providing investment research and has been at it for a long time. This screening/backtesting product incorporates a portion of their research in the proprietary Zacks Rank.
One feature that sets Research Wizard apart is the ability to run a screen locally or online. The same is true for back-testing. You can download the database and run the back-test locally or run the back-test online. In either case it is simply a matter of pointing to the online data or the local database.
So if working off-line on your strategies is useful for you, this product will work.
Stock Screener "Must Have"s
When you start Research Wizard, the overall management screen is presented. Notice that there are both menu items (along the top) and icons (left side of screen) to navigate the system.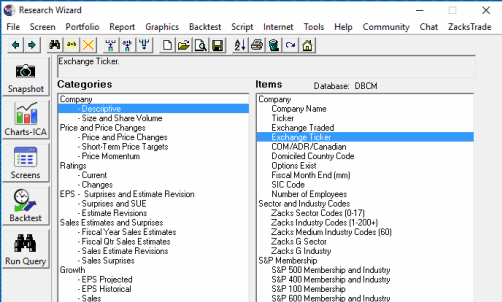 This provides some idea of the depth of the data available. For each highlighted data category in the left column, the right column is expanded to list the detailed data available within the category.
You can screen for companies in US exchanges, including OTC, as well as the Toronto exchange. The filing date for any company is available.
Any set of criteria you enter for a screen can be saved by name. As you build your own screens and save them, it makes sense to create at least one folder dedicated to storing your screens. The dozens of sample pre-built screens provided with Research Wizard are available in folders identified by style. For example, there is a guru folder where implementations of investing strategies developed by investing legends are stored (see below).
Notice in the upper right corner of the stock screener you have access to ZacksTrade, an online broker affiliated with Zacks Research.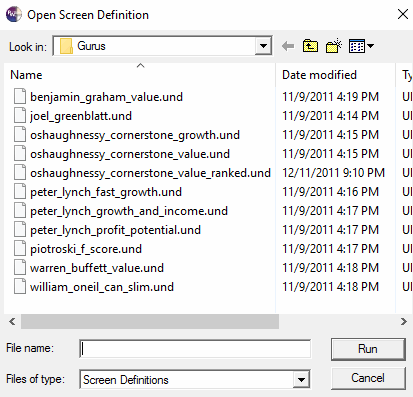 Their sample screens are an excellent way to become familiar with the features of their product. Part of the included documentation is "Top 10 Stock Screening Strategies That Make Money". They also email descriptions and rationale for their sample screens on a regular basis.
Results of a screen can be saved or exported for further analysis. All the info in the report created for the screen is included. The ticker list can also be saved.
Research Wizard extended features
Okay. That was the easy part. This is a mature stock screener and has lots of features - some we haven't even listed in our feature checklist.
When including criteria in a screen, there is enormous flexibility. Not only can you select items directly from the list of fundamental and market factors shown above, you can compare them to benchmarks, industry and sectors by mean or median, create custom formulas using a variety of operators, and use Zacks Rank for stock or industry ranking.
Although no price or volume indicators like moving averages are available, there are momentum factors like relative strength, percent price change and price ratios for a variety of time frames.
The form used to build expressions (i.e., formulas) shown below illustrates the richness of the criteria functionality.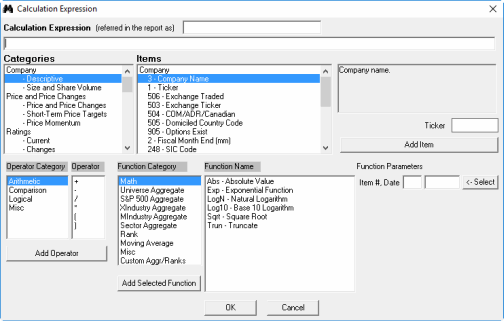 Any criteria in a screen are by default shown in the report for the screen. Additional items can be included in the report and the results can be sorted by any item in the report. For some reason, only the report uses the criteria name. The screen itself contains only the calculation expression.
One missing item is multi-factor ranking.
But the big win is the Zacks proprietary ranking for stocks and industries.

The results of the screen can be managed in an online portfolio at Zacks. Positions in each portfolio are updated daily with regard to proprietary factors and you are notified by email. The following is a recent evaluation notice: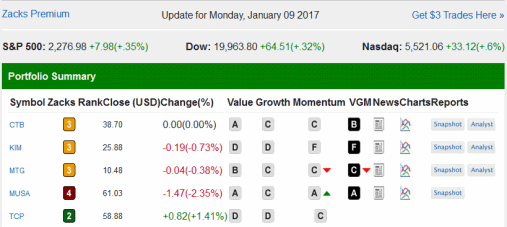 This notification may alert you to a downgrade and the need to close the position.

Support
There is an online user forum as well as documentation, videos and email access to the support team.
Backtesting
One of the major strengths of the Research Wizard stock screener is the back-testing capabilities using data starting in December, 1999.
In addition to a straight-forward back-test over 1, 2, 4, 12, 24 or 52 week intervals. advanced back-testing makes it possible to test the various criteria of a screen against each other, and test a combination of strategies to examine the strength of a portfolio.
Advanced back-testing is not available using the online database. It must be done on the local database.
The back-test setup is illustrated illustrated below.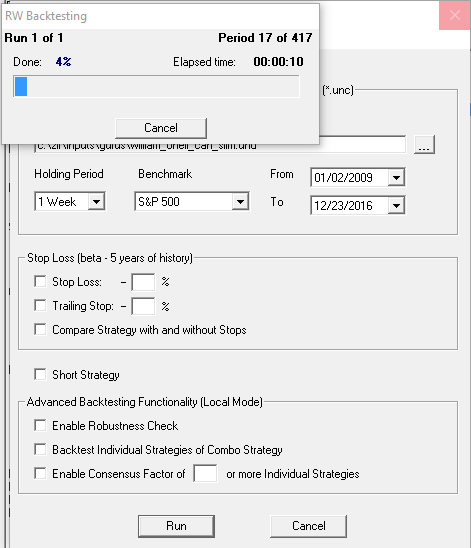 Conclusions
This is an excellent product with lots of features. Perhaps because it has been around for some time, some of the user interaction will not be as smooth as newer products. Other than automation, multi-factor ranking (which can always be carried out on exported results) and simulation, nothing is lacking. If you simply cannot do without one of these features, this product is not for you.
Not all the features of the system have been described or illustrated. For example, the graphical representation of your screen results in the form of a hot map or scatter chart. You can check Zacks description of their product.