Stock Screeners
- CANSLIM -
Several screeners can completely implement the CANSLIM screening requirements. In addition, several free screeners can come close enough to work. Remember: this is not a mechanical investing strategy, so screeners were considered adequate because the number of results to be checked manually were minimal.
Target requirements are included for reference at the bottom of the page.
Stock Screeners that work
The following fee-based screeners are capable of meeting the screening requirements stated below.
AAII Stock Investor Pro - AAII already has implemented 2 versions of CANSLIM and the requirements noted (different from their pre-defined screens) can be met. Trading liquidity of passing companies is an issue. Back-testing is clumsy. Their performance.
Portfolio123 – Subscribers have access to the pre-built Portfolio123 implementation and the ability to back-test variations with valid data. There are several related threads in the user forums. Best choice at present.
The following chart is the screen results from Jan 2009 through Dec 2016.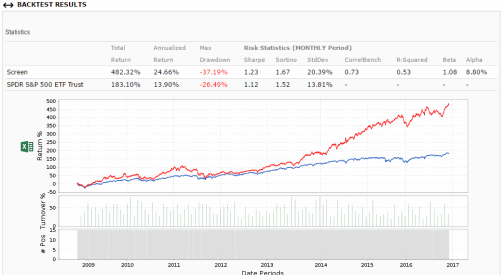 The Portfolio123 implementation overview as described on their site:
This model is one of our all-star series. It draws inspiration from the work of a well-known investor: in this case, William O'Neil. These screens cannot precisely mimic what the all-star would actually do. Many depend heavily on qualitative considerations, and even where models are quantitative, most offer only limited public disclosure of details.
The hallmarks of our O'Neil all-star model are its adaptation of his CANSLIM system, mainly company growth, industry growth, relative market strength, company quality and earnings stability.

Screeners that work to some degree
The following online stock screeners failed to implement all of the requirements but were able to return a manageable list of results. Note that FinViz is free with registration:
FinViz – Does not provide shares outstanding, number of institutional owners, relative strength or robust EPS data.  It was able to reduce the list of candidates to a manageable amount for further study. ROE is available as an alternative.  If this is your primary screening tool, you can get by.
Morningstar Premium – Does not provide price as a percentage of 52 week high but everything else is there.  Relative strength against the S&P 500 is not a rank.  It would be simpler to run the screen without this since the value might change over time. Morningstar does provide a rating of the funds holding the stock.
Zacks Free Stock Screener - Weak EPS growth choices and no relative strength. Substitute percent of hi-lo range for % of high. It produced a manageable number of results but the screen criteria cannot be saved in the free screener. Not recommended.

Screeners that fail to implement CANSLIM
The following are all free stock screeners but are not worth the effort for this strategy:
AOL Money & Finance Stock Screener – Not close enough to bother.
Google – Not enough criteria to reduce the number of results sufficiently and screen criteria cannot be saved.
Morningstar (free) screener – No.
VectorVest – Only shares outstanding is available.
Yahoo - Not close enough to bother.
Target screening requirements
Based on the published implementations and the requirements set forth in several books and articles, the following are the primary CANSLIM criteria:
| | | |
| --- | --- | --- |
| Data Requirement | Operator | Parameter |
| Q5 to Q1 EPS growth | >= | 18% |
| Q5 to Q1 EPS growth | > | Q6 to Q2 EPS growth |
| Q1 EPS | > | 0 |
| 5 Yr Avg EPS growth | > | 25% |
| TTM EPS | >= | Y1 EPS |
|  Y1 EPS | > | Y2 EPS |
| Y2 EPS | > | Y3 EPS |
|  Current price | >= | 0.9 * 52 Wk High |
| Shares outstanding | <= | 25 million |
| 52 Wk Relative Strength rank | >= | 80 |
| Institutional Owners | >= | 3 |
| Institutional Ownership | <= | 35% |